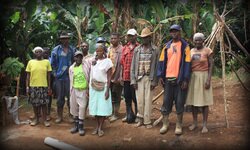 Espresso Royale was very fortunate to arrange for coffee from the Thiotte region of Haiti this year. It is a very rare coffee due to the economic, natural and political traumas the nation has suffered. Haitian coffee is considered one of the finest coffees in the world for its natural balance, floral scents and chocolate finish.
We were so blessed to get this coffee for our customers we decided to give back to the people that pick the coffee and transport it on foot down rugged trails. We are donating $2 per pound to a very good organization called RainCatchers. Check out their wonderful work at
http://www.raincatchers.org/
RainCatchers is a Michigan based
non-profit that takes volunteers and supplies down to Haiti each month to install clean water systems for the Haitian people.