Solidario Coffee Tour
Sample our finest organic and fair trade coffees. Grown in some of the best known coffee producing regions in the world, our Solidario Tour not only delivers great flavors, it also sustains the very people and communities that bring it to you. Who knew you could help change lives with a simple cup of coffee?
Notes
Your tour will start with an initial payment for the first month, then be billed every 30 days for each additional month for the remainder of the tour.
We can only allow one tour per transaction at this time - if you wish to purchase additional tours, you can complete your order then return to order an additional tour. Sorry for the inconvenience!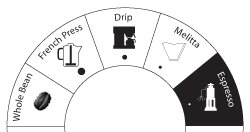 Choose your grind...
Whole Bean
French Press
Drip
Melitta
Espresso